Real Name
Susan Diane Wojcicki
Birth Date
5 July 1968 (53 years old)
Place of Birth
Santa Clara County, California, United States
Gender
Female
Height
1.65m or 5 feet 4 inches
Father
Stanley Wojcicki
Mother
Esther Wojcicki
Sibling
Janet Wojcicki
Anna Wojcicki
School
Gunn High School
University
Harvard University, University of California, Anderson School of Management
Nationality
American
Descent
Polsih
Profession
CEO at YouTube, Economist, Businesswoman and Manager.
Susan Wojcicki (pronounced as wuu-chits-kee) is a 53-year-old businesswoman who is famously known for being the CEO of YouTube.
She was actively involved in the growth of Google and has supervised a lot of successful projects which contributed to Google's massive expansion.
She has worked in the tech industry for more than 20 years and took over many marketing and consulting positions.
What is Susan Wojcicki's Net Worth in 2022?
As of 2022, the net worth of Susan Wojcicki is estimated to be more than $815 million.
The above estimate is provided by Forbes. It is interesting to note that, since she became the CEO of YouTube in 2014 her net worth has grown exponentially; from $300 million in May 2015 to $815 million in August 2021. Thus, it is quite obvious that she earned millions of dollars just by working for Google and by being the CEO of YouTube.
In 1999, before working for Google, Susan Wojcicki worked in the marketing team and department of Intel Corporation in Santa Clara, California. According to Indeed, today a marketing employee earns around $141,850 per year working at Intel. She must have earned $70,000 per year during her time while working for Intel.
She has also worked as a management consultant at Bain & Company along with R.B Webber & Company. According to Indeed, today a management consultant earns $147,098 per year working at Bain & Company. She must have earned $80,000 per year during her time while working for Bain & Company.
Susan started working at Google in 1999. She became the first marketing manager and was hired as the 16th employee of Google.
Throughout her career, she handled many responsibilities and worked on many Google projects like the Google Doodle, Google Books and Google Images. This is when she started making a lot of money and started getting recognized for her amazing talents.
After some time, she got promoted and became the senior vice president of advertising and commerce at Google. She worked on introducing many new tools which majority of today's marketers use like Google Adwords (a.k.a Google Ads), Google Analytics, DoubleClick and Google AdSense.
She handled some of Google's largest acquisitions:
One of the greatest things she accomplished in her career was becoming YouTube's chief executive officer in 2014.
According to Comparably, she must be earning $450,000 annually from YouTube as a CEO.
According to Erieri, Susan made $374,829 in 2021 as an Independent Director of Salesforce.com Inc. Susan owns more than 100,000 units of Salesforce Inc. stock.
She has worked on the design and development of the YouTube app and many of its features. YouTube currently has more than 2 billion monthly users and is one of the largest sharing platforms in the world. This is how the growth of YouTube helped Susan Wojcicki became a multi-millionaire.
Susan Wojcicki's Early Life and Family
Susan Diane Wojcicki was born in Santa Clara County, California on 5 July 1968. Her grandfather Franciszek Wojcicki is Polish by birth so she has a polish citizenship from him.
Susan's mother and father had solid jobs. Her father's name is Stanley Wojcicki who worked as a professor and former chair of Stanford University's physics department. Her mother's name is Esther Wojcicki who is an educator and journalist.
Susan has two sisters who have amazing careers. Anna Wojcicki is the co-founder and CEO of 23andMe which is a personal genomics and biotechnology company based in Sunnyvale, California. Her other sister Janet Wojcicki is an anthropologist.
Here is a cute picture of the three sisters together with their father.
She is 1.65m or 5 feet 4 inches tall and her sun sign is Cancer.
Susan Wojcicki's Education
Susan finished her high school education at Gunn High School and graduated from Harvard in 1990 with an honors degree in literature and history.
Then she joined the University of California and received her masters in economics along with an MBA from the Anderson School of Management.
Susan Wojcicki and Husband Dennis Troper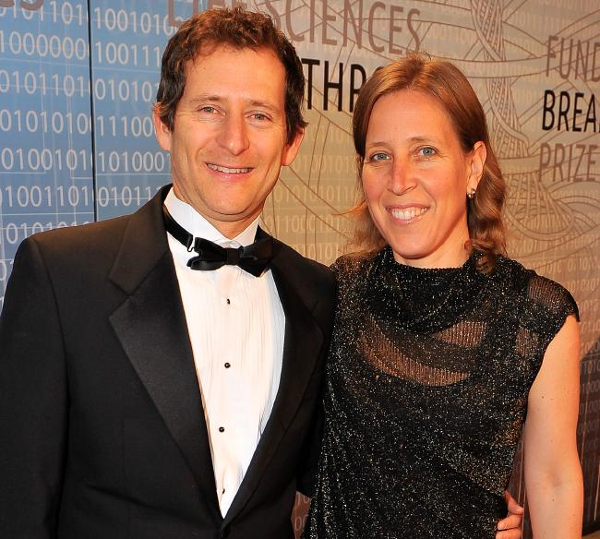 Susan married Dennis Troper in 1998.
Dennis Troper is the director of product management for Wear OS by Google. He joined Google in 2003.
He was brought up in Costa Rica and was part of a small Jewish community in San Jose. Later he moved to the Bay area.
Dennis attended a Jewish day school and graduated from the University of Texas in Austin with a degree in economics. He also attended the University of California at Santa Cruz where he received his masters in applied economics.
At Google, Dennis worked on several projects including Adwords, Google Suite and Google Fiber. Dennis and Susan have 5 children together.
The Powerful Sisters – Susan Wojcicki & Anne Wojcicki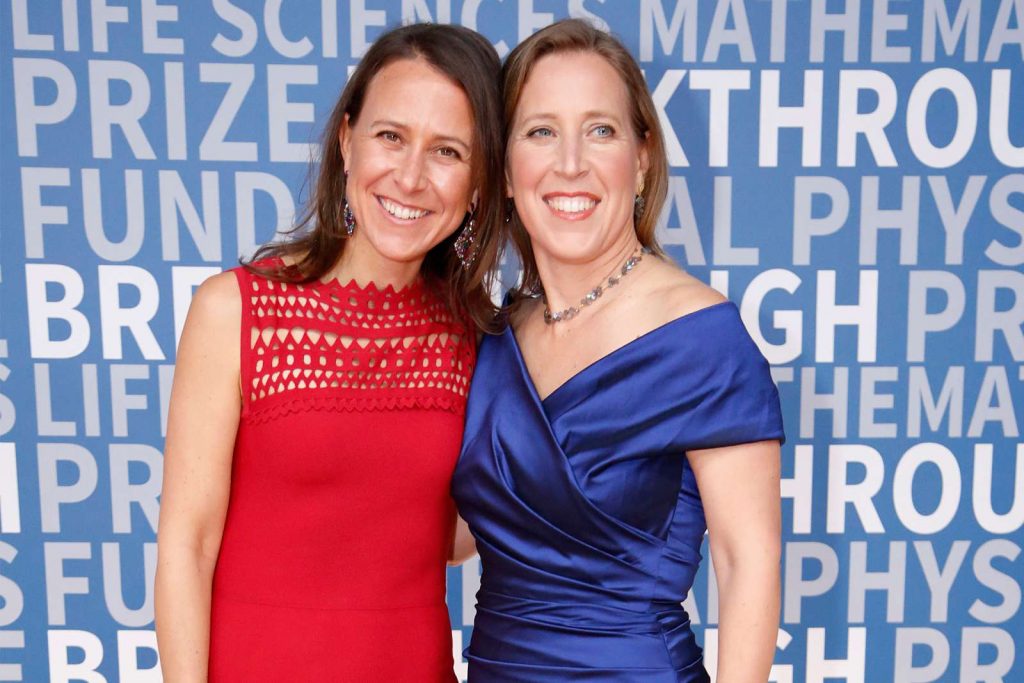 Both Susan Wojcicki and her sister Anne Wojcicki are CEO and have made it to Forbes list of 'America's Richest Self-Made Women'. Anne Wojcicki's net worth is $1.1B and listed at #25, while Susan Wojcicki's net worth is $815M and listed at #34.
Susan's parents encouraged both her and Anne's independence from a young age.
Anne wanted to learn figure skating when she was young and even though her parents didn't like the idea, they let her follow her dream. They wanted Anne to take up tennis instead. Anne paid for her figure skating lessons on her own with the money she earned from fundraising competitions.
She graduated from Yale University and initially worked as a Wall Street Analyst. She quit the analyst job to pursue medical school.
In 2006, she started 23andMe and discussed the idea of finding DNA provided by saliva with her friends. Her company 23andMe is currently valued at $3.5 billion.
Anne married Sergey Brin who was Google's co-founder in 2007. But they had a divorce in 2015.
After this she dated the baseball star Alex Rodriguez for a while.
Both Susan and Anne owe their success to their mother who did an amazing job raising them.
Susan Wojcicki and Controversial Talks
In 2019 Steven Crowder, a conservative commentator was accused of making racist and homophobic remarks, Susan Wojcicki stood by the company's decision to allow him to remain on the platform.
She said that there were a lot of racial slurs and sexist comments in many YouTube videos including late night talks and rap songs. All the policies laid down by YouTube need to be enforced consistently otherwise a lot of videos will have to be taken down.
Carlos Maza who is a video producer on Vox's Strikethrough tweeted and said that YouTube is allowing abuse and homophobic content on its platform. He has tried to flag the video several times but since Crowder has 3.8 million subscribers (at that time) YouTube would seem anti-conservative if they took down his channel.
After a lot of criticism and backlash, YouTube suspended Crowder's channel monetization so he won't be able to earn money by including ads in his videos. YouTube also updated its hate speech policy.
Later, Susan Wojcicki apologized to the LGBTQ community by saying that she should have suspended Crowder's monetization immediately.
More Interesting Facts about Susan Wojcicki
In 2013, Susan discovered how Google can potentially increase its advertising potential. This idea led to the formation of AdSense which brought $100 billion in ad revenue in 2018.
The first video Susan uploaded on Google's video sharing platform was called 'a purple Muppet singing a nonsense song'.
In 2021, Susan was ranked #18 in the Forbes list of the World's 100 Most Powerful Women. She was also ranked #34 in Forbes list of the America's Self-Made Women in 2021.
When Susan became senior vice president of advertising and commerce at Google, there were only 8 other senior vice presidents at that time.
Susan does a good job at balancing her work and family life. She and her husband don't check their emails or work at night in order to spend quality time together.
Susan is very strict when it comes to her children's phone usage. She won't allow them to use their mobile phones when they exceed the prescribed screen time limit. She lets her younger kids use only the kid's version of YouTube.
Some of the products Susan has launched include YouTube Music, YouTube TV, YouTube Gaming and Google Suite.
Susan said that many people doubted her ability to have a career while having 5 kids. A lot of people thought that she would quit her job after her second kid, but she continued to work hard for her career.
Susan's mother Esther Wojcicki has taught famous students like Steve Job's daughter Lisa Brennan-Jobs and actor James Franco.
Susan rented the garage in her home to Larry Page and Sergey Brin who were working on search engine called Google in 1998. Both of them were graduates from Stanford. They were charged $1700 per month.
Susan said how she would spend late nights with Larry and Sergey eating pizza and M&M's in the garage. They also talked about how Google was going to revolutionize the world.
Susan was 4 months pregnant when she joined Google as a marketing consultant. She was the first person at Google who went on maternity leave only after a few short months.
Susan said that her children empowered her to do job better. Her career also helped her to be a better mother. She learns important things from both her children and her workplace.
Susan's favorite app on her smartphone other than YouTube is Waze which is a GPS navigation app because it allows her to get to places quickly and efficiently.
Susan's tips to hold a smooth meeting is to have a clear agenda, know what has to be done and get the things done as quickly as possible.
In 2015, Susan Wojcicki said that virtual reality is YouTube's new frontier. Facebook and Vessel are becoming prominent viral video competitors so YouTube needs to step up its game and encourage creators to create immersive 3D content.
Frequently Asked Questions About Susan Wojcicki
Who is Susan Wojcicki?
Susan Diane Wojcicki is famously known as the CEO of YouTube, Businesswoman and an economist.
How old is Susan Wojcicki?
Susan Wojcicki is 53-year-old. Her birth date is on July 5, 1968.
Who is Susan Wojcicki's husband?
Susan Wojcicki is married to Dennis Troper. They tied the knot in 1998.
What does Susan Wojcicki do for a living?
Susan Wojcicki worked for some major companies like Intel Corporation and Bain & Company before she joined Google. Currently, she is the CEO of YouTube.