Bailey Sarian is a 33-year-old beauty guru, makeup artist and social media influencer.
She rose to popularity in 2019 for her unique makeup series on YouTube called Murder, Mystery and Makeup.
She has collaborated with many famous makeup brands and launched her own collections. Some of these include Loud Lacquer and Etah Love.
She has uploaded a lot of themed makeup video-tutorials inspired by people like Kat Von D, Cher, Amy Winehouse, Harley Quinn, The Joker and many other.
Bailey Sarian Net Worth
As of 2022, Bailey Sarian current net worth is $8 million. Her main source of income is from YouTube channel which has over 6M subscribers. Taking all her YouTube videos (around 430) into account, her total number of views are over 700 million. Her channel receives around 1M views on a daily basis.
Let's Do Some Calculation
Earning from YouTube
According to Influencer Marketing Hub, a YouTuber gets $3- $5 per thousand video views or an average of $18 per thousand ad views ($0.018 per ad-view). Long videos have potential for multiple ads. Since most of Bailey Sarian's videos are over 30 minutes, her videos has multiple ads. Monetized ad views usually tend to make up 40-80% of the total views.
According to SocialBlade, Bailey Sarian's YouTube channel receives around 25 million views a month. Taking all the above factors into consideration, Bailey Sarian is estimated to earn an average of $0.018 (per ad-view) x 25,000,000 (views per month) x 60% (average monetized ad views) = $270,000 per month which amounts to just above $3 million per year, as of 2022.
Bailey's YouTube channel has been constantly doing well from last 2 years, as such her net worth has only grown since then. Considering multiple ads, video sponsors and selling of merchandise from her website, Bailey Sarian's current net worth in 2022 is around $8 million.
Earnings from collaborations
Currently, Bailey has over 2.8M followers on Instagram.
Big makeup brands like IPSY and ESTATE Cosmetics has collaborated with her. She launched her own eye shadow palette with ESTATE in August, 2020.
She has also collaborated with Loud Lacquer for a Murder Mystery themed nail polish and has shared the pictures on her social media account.
This collaboration must have earned her a generous amount of money.
Earnings from Merchandise
Bailey also has her own merchandise with the popular merchandise company MerchLabs. Her merchandise includes t-shirts (around $25), hoodies (between $42 to 45), sweatshirts, makeup bags, stickers, tote bags, custom wallpaper and many more. Most of her merchandise is mystery murder themed.
This Mystery Girl Tee is currently available for $25. It looks too good.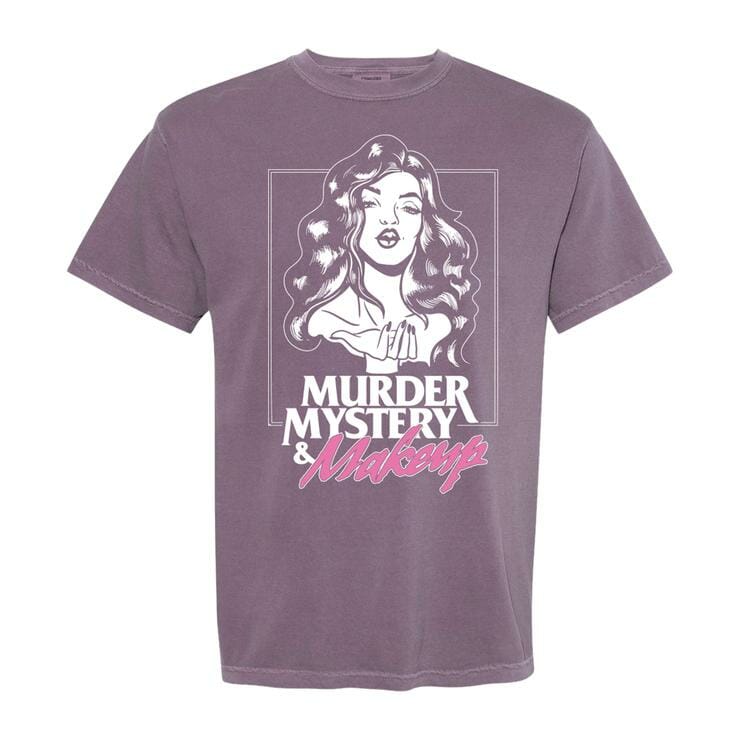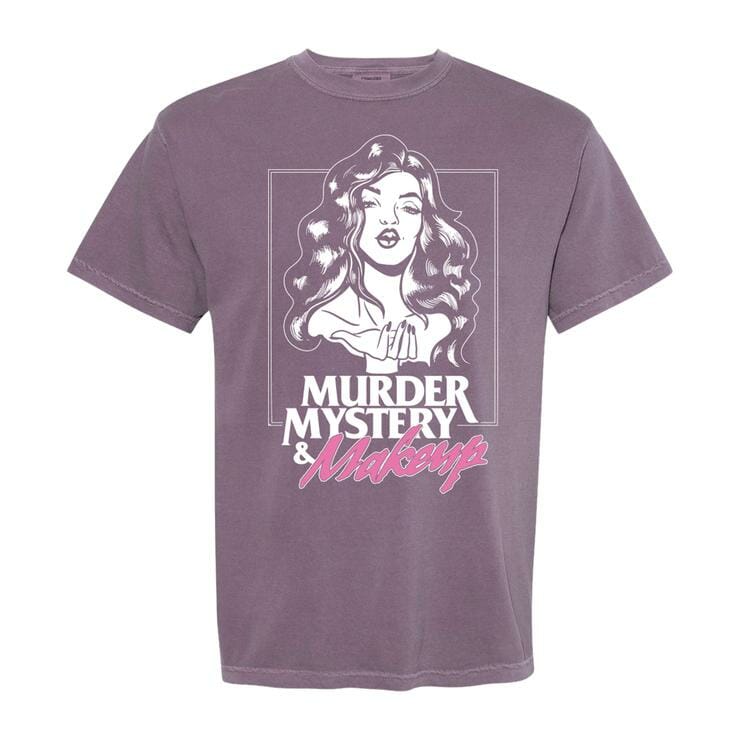 Bailey Sarian – Early Life, Ethnicity and Family
Bailey Sarian is an American and was born on 26 November, 1988 in California, U.S.A. She belongs to the Anglo-North American ethnicity. Bailey graduated from Paloma Valley High School in Menefee, California.
There is not much information about her parents or their background since she seems to keep her personal life private. Although, she has uploaded some YouTube makeup videos, like the one above, with her mother Cindy Sarian.
She has a sister – Madison Malmberg. Madison is married to Nick and is blessed with a baby boy.
Before starting a YouTube channel, Bailey used to work as a makeup artist. She has worked for popular makeup brands like Sephora and Urban Decay and served as a makeup artist for weddings, commercials and music videos.
Jill Powell who is also a famous celebrity makeup artist has worked with her for different shoots and commercials.
She even featured on Bailey's YouTube video and shared her tips and tricks for achieving a flawless makeup look.
Bailey Sarian's Rise to Fame
Bailey Sarian started her YouTube channel on Jan 23, 2013. She uploaded videos of makeup tutorials, makeup tips and makeup reviews.
Her channel started gaining popularity in 2019 when she started a new series called 'Murder, Mystery and Makeup'. In this series she makes videos where she combines storytelling and makeup. She narrates stories of crimes and murder mysteries which took place in real life while doing her makeup.
Above is her first video "Chris Watts" and there are more than 90 of them with an average of 2M views per video. People seem to love these videos and her way of storytelling. She still uploads new videos every Monday and they are some of her most successful videos.
watch this amazing video below where Bailey is talking about her famous series.
Bailey has admitted in the interview that she was first doubtful about doing these kinds of videos. Viewers would initially question her videos by reading the title but would later realize she never disrespected the victims involved in the incidents.
Bailey Sarian and Husband Fernando Valdez
Bailey Sarian is married to graffiti and tattoo artist Fernando Valdez.  They met when she was 25 in December, 2013.
Fernando gave Bailey her first tattoo and won her heart by painting her name in graffiti. They started going out and were engaged in 2017. They have been happily married for more than 3 years.
Fernando grew up in Southern California and was raised up in gang infested neighborhoods which was always characterized by graffiti style paintings, tattoo art and Native American inspired art.
He was exposed to many different cultural traditions, Hip Hop, Punk Rock and other culturally inspired movements. He had a passion for graffiti and art from a young age. He expressed his feelings, emotions and creativity through art.
His work gained a lot of recognition due to its unique designs and culturally inspired backgrounds. He received a lot of opportunities and worked on many different projects.
He has worked for some of the most famous companies in the world like Disney, Adidas, Tommy Hilfiger, Universal, Warner Bros, DreamWorks, Interscope, Pabst Blue Ribbon, Coachella Music and Arts Festival, Vans  and Stussy.
Below is a video of Bailey and Fernando, My Fiancé does my makeup, where Fernando does former's makeup.
He has also appeared in some of Bailey's videos – I do my Man's Makeup.
Bailey Sarian talks about her Inspiration Behind Murder, Mystery And Makeup
Bailey did not think she was going to be making a murder series on her channel.
In her interview with The Allure she talks about her first video of Chris Watts which she created when fans requested her to talk about it. The Chris Watts story was the first story she had investigated in detail and was fascinated about – this video received more than 100k views in 24 hours.
Bailey said her mother who was a 911 dispatcher used to take her to work when she was little. She was fascinated by the different incidents which took place in the police department. When people called 911, she would listen to their complaints through headphones. She became very interested in crime because of this.
She recalled an incident where a young girl called 911 because someone had broken into her house. She spoke in a very fearful tone and was told to lock herself in the house till the police arrived.
Bailey stated that making these videos all the time can be very exhausting. She needs to spend a lot of time on research and even hired a research partner to help her with the work. Sometimes the crime stories affect her so she takes a break from them every now and then.
She uploads Murder, Mystery and Makeup videos on Mondays and other kinds of videos on Saturdays. Most of the victims in these videos are women. She hopes her videos will help spread awareness about the constant abuse and crimes which are committed against women.
Some Interesting Facts About Bailey Sarian
Her star sign is Sagittarius.
Her oldest video is about her foundation, contour and highlight. It has more than 320,000 views.
In 2016 she sued L'Oreal for using her image without permission. Here's the interview where Bailey talks about the case.
She has a Pit bull dog named Saint with an Instagram account saint.the.pitbull.
She did a lot of sports in her childhood and played sports like, volleyball, soccer, tennis, horseback riding, gymnastic, cheerleading for four years and was on a bowling league.
She had her first boyfriend when she was 18 years old which lasted 2 years.
She used to play violin and piano.
She loves the movies Uncle Buck, Home Alone, The Wizard of Oz and 10 Things I Hate About You.
She loves the band NOFX and Bad Religion.
Her first car was 860 Toyota Corolla.
She had her first job as a lifeguard and then at a smoothie place.
She worked as a photographer; taking pictures of kids, families and new born.
She worked at Best Buy for 2 years, then Sephora for 5 years and then Urban Decay for a year.
She had her own journal in 8th grade that she has talked about in her YouTube series – STORY TIME – My 8th grade diary.