Every once in a while, people come up with provocative ideas, with sheer innovation and as always it blows people away. It shocks them, leaves them awe-struck and leaves them wanting for more. On the 16th of February, the OHWOW Gallery in LA opened up its latest solo talent show by New York artist Daniel Arsham. And he has been extremely successful in blowing his spectators away, who have been captivated.
The Fall, The Ball, And the Wall, as oddly named as it is, is a display of Arsham's fascination for challenging and provoking modern architecture. The Fall, The Ball and The Wall display Arsham's uncanny technique of creating whimsical and provoking structures and depicts his marvelous skill of mesmerizing his spectators. He even adds a dramatic twist to his works, by presenting an underlying meaning to each one of his structures.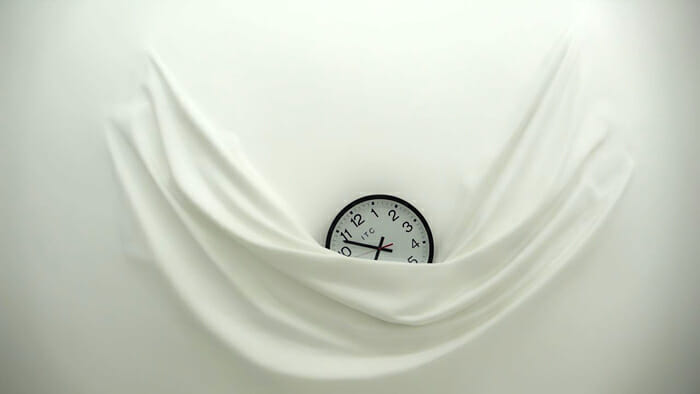 To start off with, The Fall is names so with direct reference to structures that seemingly defy the laws of nature. According to David himself, he wanted to create a structure such that he could give movement to it, and build moving architecture. His rather anesthetized sculpture and installation, the Fall is a take on hypothetical architectural elements and counter-intuitive designs, allowing objects and structures to gain mobility and appear to move around or create illusions.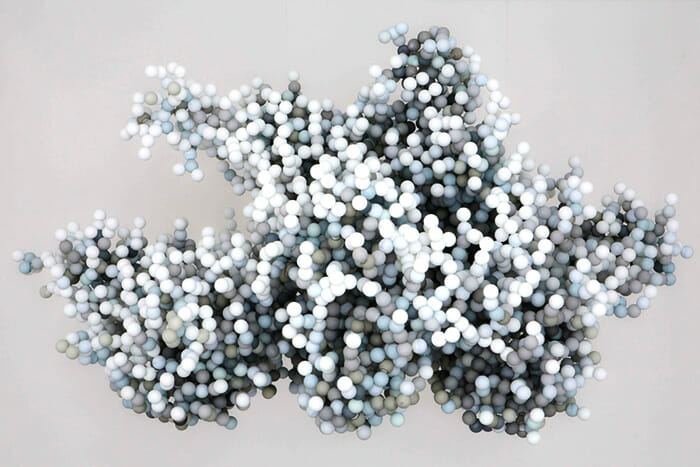 On the other hand, The Ball refers to a large-scale hanging mass of 20000 polyethylene balls in multiple shades of gray, and it is a three-dimensional hanging sculpture based from the pixels of a hyper-magnified photograph of a cloud formation. A cluster of these bags arranged in a jumbled symphony, the polythene bags are meant to look like clouds and deliver a strong environmental message all at the same time. In contrast to the Fall, The Ball is as attractive and somewhat digestible structure but just like The Fall, is a one-of-a-kind construction of modern architecture.
Coming to The Wall, a sculpture which alters the surface of the gallery wall to create a special illusion is not an easy job and is often close to being impossible. But, with his structural interventions, David causes walls to appear in a state of flux, as if they are melting or dripping and the white background gives an eerie feel. This installation is very similar to its siblings, The Fall and the Ball in being an inimitable design, abstract and fascinating but it still has a reputation of its own.
From two-dimensional work to sculpture, installation, public art, and performance, David Arsham, one of New York's most coveted artists, has helped produce occasions to consider architecture and its implications on the natural world in a very subtle sense. The Fall, the Ball, and the Wall, which are apparently Arsham's first solo show with OHWOW, illustrates the artist's continued interest in manipulating architecture and creating marvels out of simple household objects.
The bi-dimensional series of work on canvas created by David depicts realistic building constructions, which include elements that spell out words, such as 'want' or 'oops' on top of the buildings. Not long from now, he plans to transfer these ingenious ideas from the canvas into reality.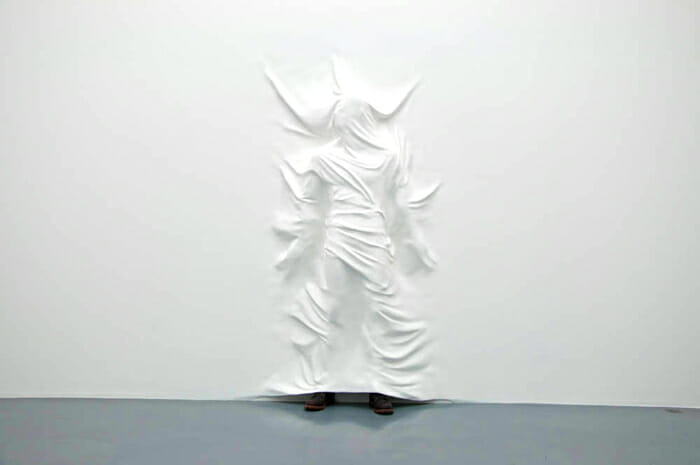 David Arsham, by presenting three stunning bodies of work, has thus revealed his diverse artistic practice and the progressive manner in which he creates his works through a chosen media, and the surrounding environment, be it his uniquely named structural interventions that cause walls to appear in a state of flux, or creation of polythene bags or the constructions that move. A prodigy of great stature, Arsham's new series of work on canvas is now seems as believable as his works. The Fall, The Ball and The Wall have boosted his credibility and skill like no other work of architecture has.
The Fall, The Ball and The Wall will unfortunately be shifting locations. But David Arsham's legacy of modern art and architecture is barely coming to its ends. The visionary has a lot more work to showcase, before he calls the curtains!