Julius Shulman once rightly said "Architecture affects everybody…" "Everyone", he said, "has the right to use it and admire it", but he also believed that it was being taken for granted far too quickly. Mr. Julius Shulman is no more but his ideals still live on. Now, director Erik Bricker's new documentary, "Visual Acoustics: The Modernism of Julius Shulman," celebrates Shulman's life and work as the world's greatest architectural photographer.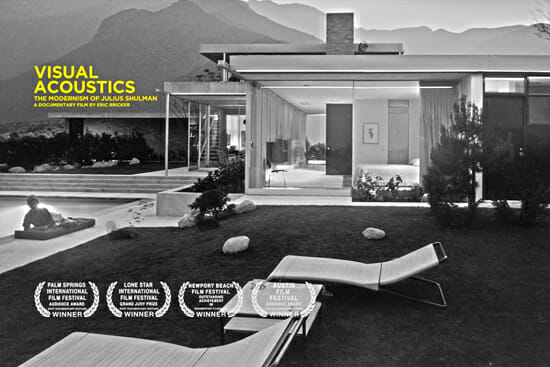 Narrated by Dustin Hoffman, Visual Acoustics is a documentary film that explores the life and career of the architectural photographer Julius Shulman, who died at age 98 in 2009. The film highlights how the images shaped the careers of some of the great architects of the 20th Century, notably Richard Neutra, John Lautner and the Case Study Architects. His iconic image of Case Study House #22 is one of the most well-known and widely distributed photographs of Modernist architecture.
Shulman is widely considered to be the world's greatest and most well-known architectural photographer. The film highlights his iconic photos which were frequently populated with human models and striking landscapes, often combining the organic with the synthetic and melding nature with contemporary design. Still working until his death, Shulman continued his celebration of modern architecture with striking images of the work of modern greats like Frank Gehry.
Eric Bricker's handsome, if not very cinematic tribute to Shulman emphatically argues for his place as the most important of architectural photographers, and the person who has directly conveyed the titular style to a wider public. Something of a missionary statement for a missionary, this is a nirvana for the people who love mid-century modern and fine-art photography, and a solid bet for wide-ranging and specialty fests along with arts-oriented cablers.
His work in particular brought Southern California Modernism to life and made modern architecture accessible to many. His larger than life personality was a driving force in his work and in this film. Exploring Shulman's art and uniquely creative life, Visual Acoustics forges an all-encompassing portrait of Modernism's most eloquent ambassador.
It is believed that Julius Shulman is responsible for photographing many of the modern masterpieces in meticulous detail, particularly in the movement's Southern Californian epicentre. As the film helpfully explains, Shulman's eye for one-point perspective although not noted here, is a considerable influence on Stanley Kubrick's films from "Paths of Glory" onwards, accommodated the style's emphasis on open, airy spaces; long, geometrical lines; panoramic use of glass and windows; and the visual blending of exterior earth and sky with interior comfort zones."
If not cinematically powerful, the documentary is nevertheless a great tribute to the master of photography of peculiar images. Julius Shulman during his life and times was an unparalleled critic and performer in his specific field and constantly strived to seek advancement in it.
It is thus no laughing matter that the documentary deserves a serious watch. It is revered among photographers as an autobiographical documentary and showcases the life of Julius Shulman in stunning pictures. A must watch movie with a difference, which Julius Shulman himself would have been proud of.