This dynamic new example of community architecture was commissioned by the City counsel of Sydney, Australia. The building that we see today is a refurbished form of a converted toilet block which overlooked a skate park situated near waterloo oval. It has now been amazingly transformed into this welcoming and marvellous counselling facility. It also serves as a communal youth centre and is based on a design plan by the architectural firm Collins and Turner which included a budget of around 3.5 million dollars and covers an area of 252 sq kilometres.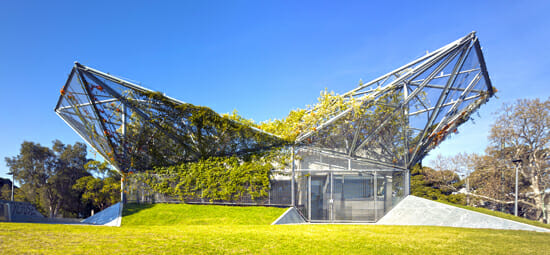 The refurbished building was inaugurated on 11th of august 2012. The building is a merger between architecture and horticulture and now adorns the southern area of the waterloo oval as an extension of its former landscape. The roof had a beautiful roof garden which is crowned by a star shaped steel canopy that supports and eventually be enveloped by a number of climbers and fruit vines. The components used in the construction of the building are very energy efficient and most of the areas in the buildings are highly ventilated and allow a lot of natural light in the workplace.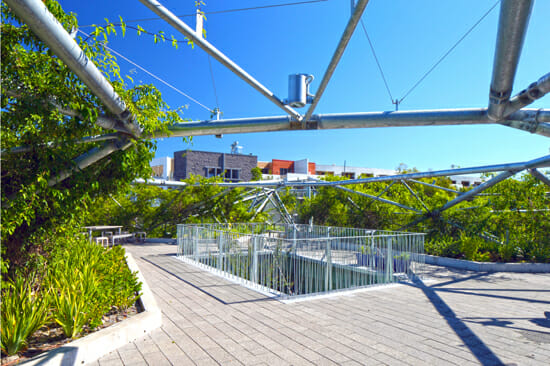 The building has its own rainwater harvesting system, the water from which is collected in special tanks. The slate tiles from the older structure were recycled and were used as pebbles for the landscaping of the roof garden. The older steel drainage grate-plates were refurbished into the stairs that connect the lobby on the ground floor to the roof entrance. The whole building is designed in a pinwheel which pivots around the central courtyard. The spaces around the facility is retained with the help of unique and stylishly designed triangulated sheets with patterned round punctures that allow plants and grass to emerge from beneath.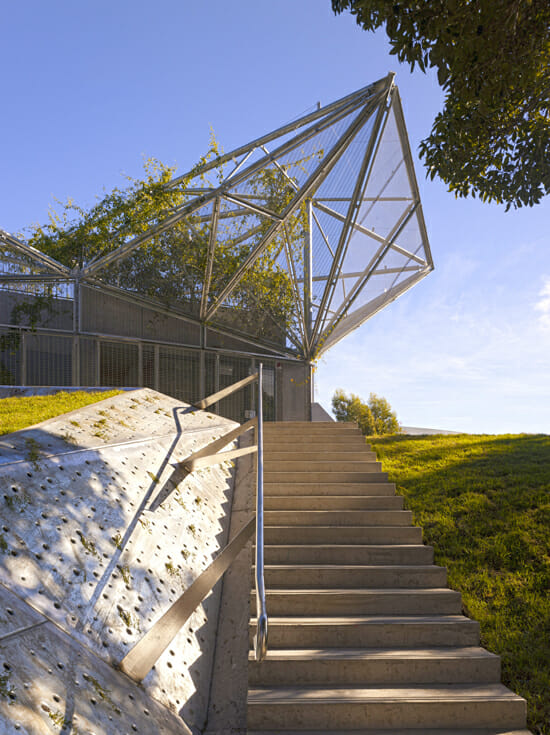 According to Collins and Turner, the design is partially inspired by the Snowdon aviary at London Zoo and a twentieth century American naturalist called John Krubsack who grew a chair from a tree. Keeping all these influences in mind, the architects at Collins and turner have made this facility a perfect blend of nature and architecture merged together in this symbiotic mix. The structure itself looks like a work of origami and appears as if it can be folded into a smaller structure and vice versa. Once the plants grow around the steel canopy the facility will totally complement the park and its green surroundings.
The building contains a reception area, a room where the workers can relax and chill out, a small kitchen, 2 counselling rooms, staff amenities, a room for the manager and a small facility which is used by the visiting general practitioner. The facility can accommodate 14 members of the staff and a manager.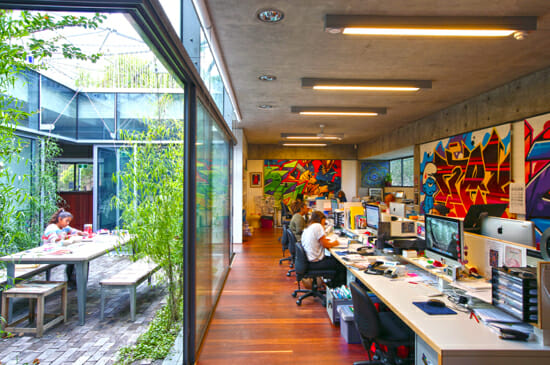 The building with its recycled and environment friendly construction methods and materials not only gives a message to the community but can be considered another stepping stone in the world of architecture and can be called a marvellous example of "Green Architecture" .